An underwear patch for the Asian female main character.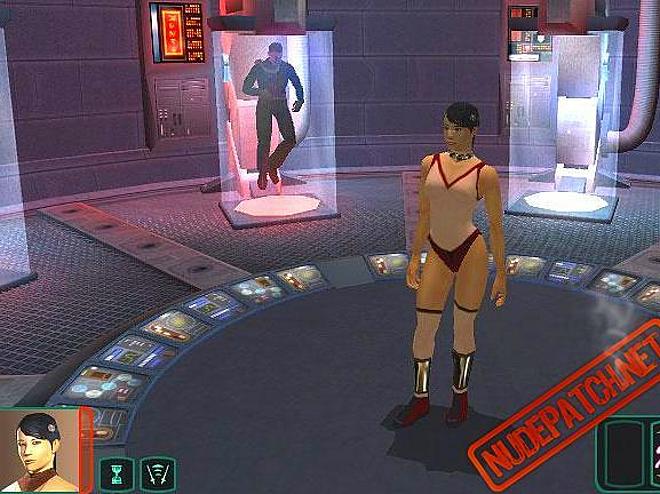 ***
Author: MdKnightR
Asian Female Sheer Undies v1.0
DESCRIPTION KOTOR nude mod:
Very simply, this is a new set of undies for the Asian female characters.
They were inspired by the Maj. Motoko Undies mod by The Ossus Keeper, even though everyone should agree that they look much different.
This mod has a sheer pink material for the torso and slimmer bikini bottoms than most undie KOTOR nude mods.
It also has a reflective metal texture on the necklace/choker and the shin guards.
Files in KOTOR nude patch:
pfbama01.tga
Readme.txt (duh!)
front.jpg (screenshot)
back.jpg (screenshot)
TO INSTALL KOTOR nude Patch:
Simply drop the pfbama01.tga in your override directory. To take full advantage of the reflective metal texture, you must edit the appearance.2da file (preferably with Fred Tetra's Kotor Tool). The only change that will need to be made is to the "envmap" column. Place "CM_Baremetal" without quotations in this column for all female asian characters (example…"P_FEM_A_SML_04," "P_FEM_A_MED_04," and "P_FEM_A_LRG_04") entries.
TO UNINSTALL:
Delete the pfbama01.tga file to uninstall KOTOR nude mod.
SPECIAL THANKS:
Thanks to The Ossus Keeper for the inspiration for this KOTOR nude mod.  Also, a big shout-out to Mitsuko Aninikkou for being brave enough to pave the way for a mod like this with his PC See-through Tank Top Reskin.