The mod adds the micro bikini swimsuits to the females of Fallout 3. Requires: TYPE 3 Body and BREEZES FO3 male body replacer 1.3. Credits: Backsteppo/TKone.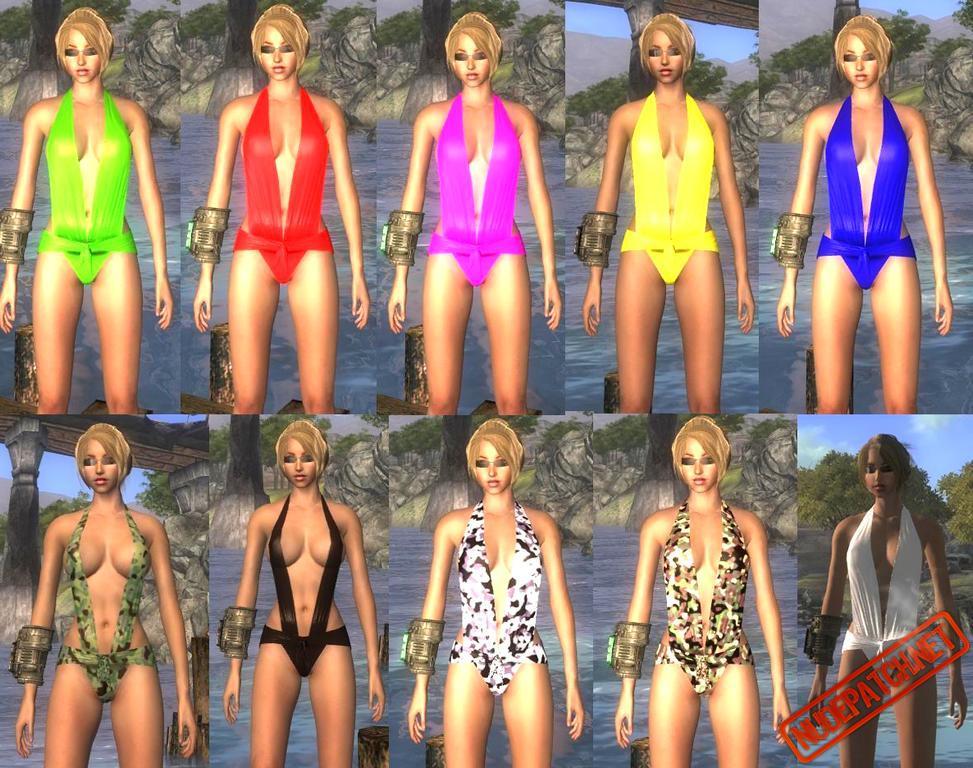 What's Included:
Swimsuit & Leather Harness.
Several colors of the C Swimsuit. Including a silk variation with a slight see-through effect and a hotter version with less fabric. Camo has about 20 damage resistance. The rest almost nothing. Attention: With this outfit the breasts are slightly bigger then the standard Type3 breasts. Therefore the mod contains a nude only version, too. Male version included.
How to Install Fallout 3 Swim Suit:
Make sure that you have TYPE 3 Female Body and FO3 male body replacer (for men) installed.
Extract the mod's archive with an actual version of 7zip into your Fallout 3 "data" folder and activate the ".esp" file.
Uninstallation:
Delete the relevant meshes, textures and esp.
Location:
A metal box in Dukov's bedroom right below the box where Backsteppo's original version is placed and the thongs are placed on the other side of the bed.
The C Swimsuit & Leather harness can be found in a locker near Dukovs bedroom next to the metal boxes.
Changelog:
24. May: New pack uploaded with several colour variations of Backsteppos C Swimsuit & Leather Harness. Male version included, but not tested properly. It should work though.
26. April: Uploaded an esp which can be used for both packages. Micro Bikini & Thong. Don't activate it near Dukov's home and remember to deactivate the 2 single esp's. This makes you lose the outfits so you have to go to Dukov again to get them back.