This patch removes the censor in the bathroom scene at the 2nd Day.
In order to view this gag you must click on the 8x tub. (Whatever the author thinks so)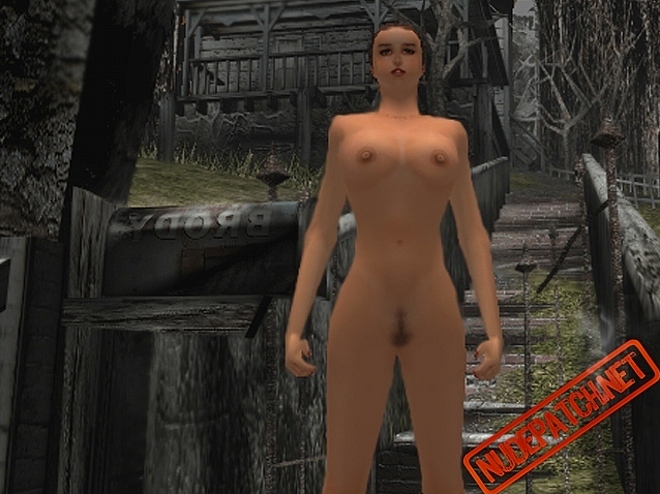 Note: This patch requires the Nocturne Editor (Not included in the archive).
***
ude Skins by Denadin
======================
Full Nude Doc Holiday SP and in bath
Nude Gretchen the waitress/ stripper
How to Install
===============
to use this patch you have to download the Nocturne Editor
from nocturnegame.com and install the editor files
in the Blair Witch game directory. For example- C:\Program
Files\Terminal Reality\Blair Witch..-Rustin Parr\…..
1. Launch Nocturne Editor (NoEdit)
2. Press CTRL+D to open menu
3. Select-"Create a .POD.ini file now with all pods mounted"
4. Type "A"-(File Manager)
5. Select #2-(Extract all files)
6. Scroll to BLAIRHERO, Click OK to extract,Type Enter,Click Yes
7. Repeat and scroll to BLAIRNPC, OK to extract, Enter, Yes
8. Go back to Editor Menu, Type #5 -(Keyframe Model System)
9. Type #1 (Load Model)
10. Scroll and select DOC-COAT_BW, Click OK
11. Type "S"-(Scale) and type 0,0,0 in the box, Click OK
12. Type #2-(Save Model), type Enter, and exit (ESC)
Using the Nocturne Editor, two folders (ART and Models) are
extracted from the two .POD files and can be accessed in the
Blair Witch game directory. Also Doc's coat is removed by
scaling down the coat's model to a zero vaue.
To install the patch – unzip NUDE_BlairWitch, copy and paste
the ART and MODELS folders in the Blair Witch game directory
overwriting the files -(yes to all)
Have Fun! Start the game mission at HQ-BWI (Headquarters)
Email-Comments
===============
[email protected]
Doc and Gretchen were created from existing game files which I
modified using Adobe Photoshop. Raw files plug-in for Photoshop
can be found in the NoEdit files. Darklord created the original
patch for the nude Elspeth Holliday.
Thanks
======
***