It's a tool aimed for extraction and installation of graphic resources (nude skins of course) in many games like Tomb Raider: Anniversary, Tomb Raider Legend, Sid Meier's Pirate and etc. Texmod is really useful, whenever you would like to install graphical patches, like nude mods or skin patches to your games.
Also the program is necessary for start of files with expansion tpf.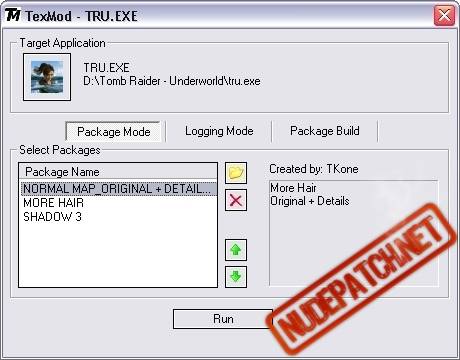 texmod nude patcher
The tool interface of Texmod patcher offers 3 ways.
Package mode: add package files to a list and load them into the chosen application soft.
Logging mode: select 'tween a lot of choices and begin the chosen application program in logging mode and
Build mode: make a package by choosing a definition file (e.g. an automatically made log file) and entering your name and a notice.
Whenever you would like to install the freshest nude mods, TexMod is the primary tool for you. For info how to install the nude mods, see ReadMe file in the archive package.
Some large nude patches (over 5 Mb) are packed by the archiver of new generation, download 7zip for unpacking.
***
Steam Instructions:
You may get a FALSE virus alert if you start TexMod. In this case switch off an antivirus at patch installation.
(Example Steam Version Tomb Raider 2013)
Close Texmod:
Rename TombRaider.exe to TombRaiderOriginal.exe
Rename Texmod.exe to TombRaider.exe
 Launch the game via Steam, it should execute Texmod instead of the game.


Note:

 

No launch the .exe within the games folder launch it through the TR-link from the desktop.

 Click on the folder icon below "Target Application" then select your TombRaiderOriginal.exe.
 Now, you need to select .tpf file, click on the folder icon just above the red cross and select one.
 Click run to load the game.
***
How to use Texmod with DX10 Games:
(Tomb Raider 2013  e.t.c.)
To use it is necessary to run Tomb Raider 2013 in Directx9 and game graphics options in High level!
Texmod only works with DirectX 9, to force Tomb Raider to always use DirectX 9:
Execute DirectX9.reg (included in package)
Restore DirectX 10/11:
Execute Restore.reg (included). Now use Texmod as you would normally.
Enjoy!