This unofficial oblivion patch adds a new NPC in the capital of his name probably will do honor.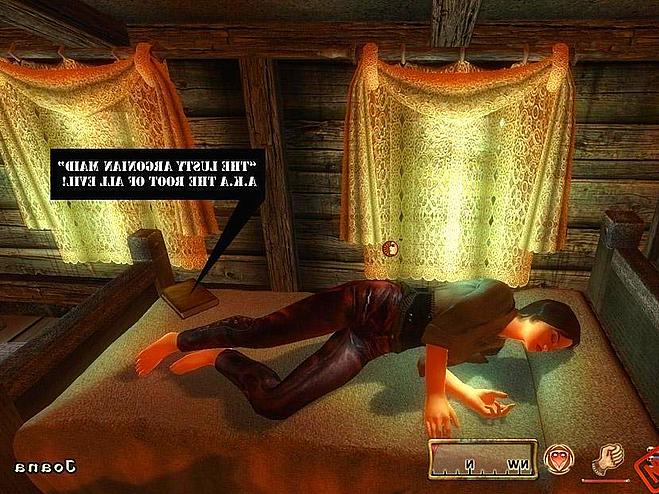 ***
Warning: This mod contains explicit sexual scenes and is intended for adults only.
version Beta 01 FIX :
Complete version, including a fix of a missing landmass and three wrongly located refs.
—
This unofficial oblivion patch adds a cozy shack behind the imperial city stables.
It's owner, a sordid lass called Joana, offers some outstanding services.
Her morals however, are rather low; she buys all kinds of stolen wares and once
she gets to know you well enough, she'll even let you watch her please herself,
for a mere fifty gold coins, that is.
Her doors are always open she is happy to receive your gold whenever you drop by,
whether she is sleeping, having a little snack on her balcony or hanging out in the shack at mid day.
(Get your disposition up with Joana to 70 or higher and engage in conversation again to get acces to the topic).
Known issues:
———————————————————————————-
Occasionaly Joana will undress but refuse to find a bed and start the animation sequence.
Solution: enter another cell, quicksave, quickload and try again.
Installing unofficial oblivion mod:
Unpack the 7z file with unofficial oblivion patch into your Oblivion game folder.
Overwrite all.
Check the the Naughty_Joana.esp in your Datafiles and play.
Important Notes:
———————————————————————————-
The original animations in this mod are from the Basic Instinct (BSI) mod which was part of the Erotic Oblivion
pose pack which can be found on this site. Despite my efforts of trying to find out who made the original mod,
(Which adds a spell to your spellbook which allows you to have any female actor undress herself and run for a bed
to please herself), I didn't succeed, his/her name isn't in the original readme either.
So if anyone, anywhere knows whoever I should credit for the great animations and/or the original mod, please let
me know here so I am able to still ask for permission to use the content and, if granted, give the person credit
and thanking him for inspiring me to make the Naughty Joana mod.
About Joana unofficial oblivion patch:
I loved the original BSI mod but I really wanted to make a roleplaying friendly version to make it more real.
So, rather then having a spell which can be used at your whim to have any lady endulge herself in nude and naughty behavior,
I added one girl with low enough morals to do so for fifty gold in a suitably cozy setting.
About the animations:
—
I only tested Joana unofficial oblivion patch with the exnem body installed, with this mod the animations look good, most of the time.
Sometimes they don't seem completely accurate and there is some clipping of bodyparts.
I have no idea how the animations will show up with other body mods or the vanilla body.
Having a nude body mod installed is recomended, due to the *coughs*, nature of the animations.
Final words:
—
I did quite some bug hunting already and cleaned the mod to my best extend. It was a real tough nu to crack to make the behavior stable.
If you find another issue, have a suggestion or any other comment, please let me know in this thread.
Thanks for downloading and I hope you will enjoy the mod!