The mod adds 3 more opportunities to change the torso of female characters (flat, small, medium and large).
For lovers of small numbers.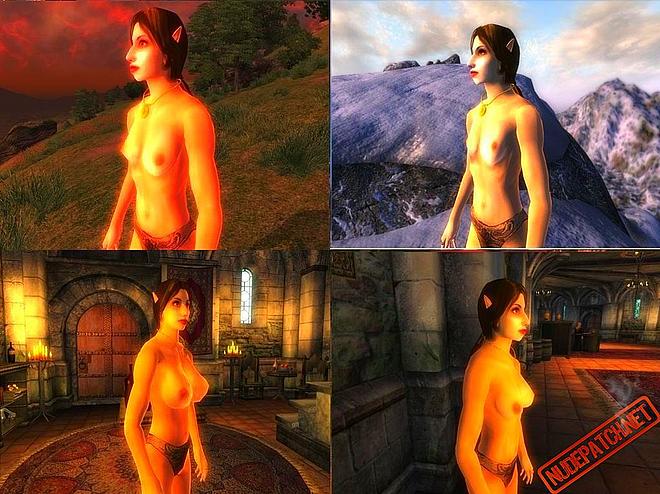 ***
You asked for Topless Oblivion female nude mod , you got it.
Darkstar's Anatomically Enhanced Female Topless Torsos v1.01
—————————–
Updated 4.22.05 to v 1.01
Changes in v 1.01
——————
1.Added three new flavors, Flat, Medium and Small.
2.Removed the Oversized and Outrageous meshes.  The president of the USA emailed me and said he hated them, so as a personal favor to the B Man I removed them.
2.Added larger, cleaner textures for all meshes.
3.Slightly updated the geometry of the "Large" mesh to enhance the perkiness factor.
4.Changed the top directory name to add "Topless" in case that wasn't made clear…BY THE PHOTOS OF AVIRTUAL WOMAN WITH HER TOP OFF ON THE MAIN PAGE.
Directions for use Oblivion nude mod :
1. Extract Topless Oblivion female nude mod pack and the textures to the proper folders in your Oblivion Data directory.
Each "size" has been given it's own folder to extract from.
The file "femaleupperbody.nif" should end up being:
\oblivion\data\meshes\characters\_male\femaleupperbody.nif
The texture files should end up being:
\oblivion\data\textures\characters\imperial\female\upperbodyfemale.dds
and
\oblivion\data\textures\characters\imperial\female\upperbodyfemale_n.dds
To get the texture to work you MAY have to create an archiveinvalidation.txt file in your oblivion\data directory.  Just create the file in notepad and cut and paste these two lines into the file and save it.
/textures/characters/imperial/female/upperbodyfemale_n.dds
/textures/characters/imperial/female/upperbodyfemale.dds
NOTES:
——
There are some watermarks that appear on these meshes courtesy of Bethesda somehow (you will notice little pale diamond shapes from the right angles), I currently don't know how to disable them.
These meshes only look proper on Bosmer,Nord,Altmer,Breton, Imperial, Dunmer, Orc and Redguard females.  If you want enhanced Khajit or Argonian breasts, I don't know what to tell you except, Argonians shouldn't have mammaries anyhow (not mammalian), and female Khajit should have several pair!
CUSTOMER SERVICE:
—————–
If you're unhappy with this mod please call with your complaints to 1.800.EAT.HELL 🙂  Or if you have a problem with video game nudity, please dial 1.800.TOP.LESS, alternativatively if you have a problem with people without thier shirts on in general, try calling 1.800.PUR.ITAN and finally if you still downloaded this although you detest this kind of mod please dial 1.800.WHAT.WERE.YOU.THINKING.NO.ONE.HAD.A.GUN.TO.YOUR.HEAD.
Enjoy and understand that until we get an official .nif exporter/importer, this is about the best I can do with Bethesda's low poly geometry!  (we currently work under the constraint at the moment of not being either able to add or subtract a single vertice in these meshes if we want proper lighting to work in the game.  I did the best with what I had to work with.)
One Love,
~Darkstar
Usage:  Do whatever you want with this because it's Bethesda's mesh and texture after all, I've just poked around a few pixels and pushed a few vertices here and there.
***These meshes and textures work together very nicely with the Nude Texture Revamps that were posted by Ryan Fyu.  Be warned however, IF YOU USE THOSE TEXTURES IN COMBINATION WITH THESE MESHES, THE UPPERBODYFEMALE.DDS TEXTURES WILL NOT JIVE. USE MY TEXTURES FOR CORRECT NIPPLE APPEARANCE! The other textures will be fine.