This Oblivion male nude patch provides a little workout in the male characters.
Note: This is probably one of the mods needed for Kendo Girls.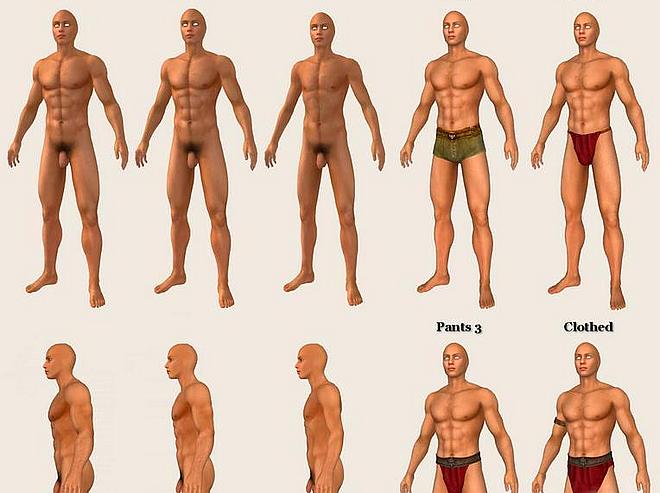 ***
Seamless Oblivion male nude patch Body Version 3
– Bulky/Muscular/Slender mesh Oblivion male nude Add On Version 1.1
By Robert
Combined the first three add on meshes into one Oblivion male nudity pack. The former 'muscular' is now 'bulky' and the former 'average' is 'muscular'. Both have the arms somewhat modified and some other adjustments.
The three meshes are intended to represent 'trained bodyshapes', with 'muscular' as average muscular. The slender version will become somewhat more muscular occasionally.
Additionally there's the adjusted tails of the beast races.
Installation Oblivion male nude patch:
Copy to your Oblivion directory. This will give you in meshes\characters\_male a subdirectory \rt and there subdirectories for the three body shapes. Each one has a \nude and a \cloth subdirectory.
For nude just copy the files you want to use to _male (the meshes used by the game are there).
In \cloth are the clothed versions – foot.nif, hand.nif, lowerbody.nif and upperbody.nif of the bulky and muscular version are a basic barbarian style outfit. Same procedure like with the nude files.
If you want to use one of the pants versions rename the respective nif to lowerbody.nif and copy it to \male.
The NifSkope screenshots have the options listed.
The beast race tails are located in the respective \nude folders. Tail.nif is the Argonian one, khajiittail.nif the Khajiit one. Replace the tail files in the \male directory of the beast races with the ones of the mesh version you chose.
Outfit textures are the same for all add ons, so when asked to overwrite, either do it or not.
My male body pack Version 3 is required, because there's the body textures.
– V1.1: fixed the indoor lighting problem of Bulky and Muscular.
The model is derived from the Bethesda mesh. Preferably the bulky version is adjusted to a modification by Breeze.
Everything can be used freely without any conditions as long it's not commercial. Asking for permission isn't required.
Enjoy,
Robert