This Micro Bikini tes mod adds a whole range of bikinis for the Mini-Mod HGEC standard added to the game. Micro Bikini tes mod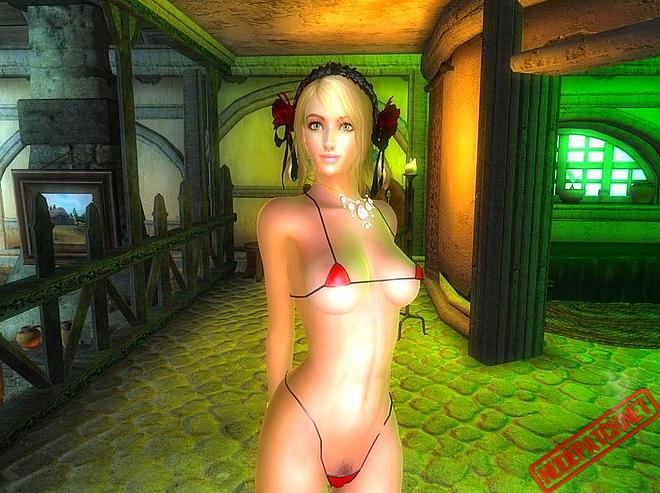 ***
Name: ANB Mini Micro Bikini for HGEC Standard
Version: 1.1
Date: 4/18/2008
Category: Models and Textures
Requirements: Oblivion Patch 1.2.0.214, Player-Created MOD(s): HGEC Female Body Replacer
Author(s): Aridale Noblebrook Belmont
Description Micro Bikini tes mod
This mod adds 20 different versions of a mini micro bikini very similar in style to those of Wicked Weasel. They will be added to your inventory when you OPEN YOUR MENU after starting the mod. If you need more than 1 set of them type "startquest ANBMBMainQst" in the console.
This mod requires the HGEC body replacer.
Details
=======
v1.1 Updates to the new version of my Moving Breasts mod based on the 1.1 HGEC chest. Its not required to use this mod but the fully nude breasts wont move without it only the bikinis. I also fixed various other small clipping errors Id noticed.
The 20 different kinds are broken down like this:
12 Colors
4 Animal Print
2 Floral Print
1 Mesh Bikini
1 Metal Bikini
The 12 colors are: Baby Blue, Black, Gold, Orange, Polka Dot, Red, Royal Blue, Silver, Soft Pink, White, Yellow and Stripe.
The 4 animal prints are: Cow, Leopard, Snake and Zebra.
The 2 floral prints are: Dark Floral and Lavender
The Mesh bikini is thin mesh and you can see right thru it. It hides nothing.
The Metal bikini has environmental mapping which means it mirrors whatever is around it in its surface.
All the bikinis have no weight and no gold value. They are also unenchanted.
Its recommended NOT to use your inventory screen to have the bikinis added to your inventory it will most likely lag your computer as 40 items are added at once. Open your character stats or map or magic menu if you can to avoid the lag.
Install  TES nude mod
1. Extract the files to a temporary location.
2. Examine the folder structure and make corrections where necessary.
3. Copy files to (install folder)\Oblivion\Data\
4. Start Oblivion Launcher, click 'Data Files', place a checkmark beside the .esp file(s).
Uninstall
=========
1. Start Oblivion Launcher, click Data Files, uncheck the .esp file(s).
2. Delete the files/folders associated with the mod.
History
=======
1.0, 04/17/08 – Initial release.
1.1, 04/18/08 – Updated base mesh based on my new moving breasts version and added 3 new types. Fixed various minor clipping.
Contact
=======
The best way to get me is as Aridale on any of the Oblivion forums but mainly the official forums, TESNexus, or EyeCandy forums.
Credits
=======
None to mention
Licensing/Legal
===============
You can do whatever you want with this mod but all I ask in return is that
you give me credit if you distribute any part of this mod. I would also like
to know what mods are including my work.