This plugin adds a new race to the game: The fallen angel
Even a completely new armor will be added to match the new breed.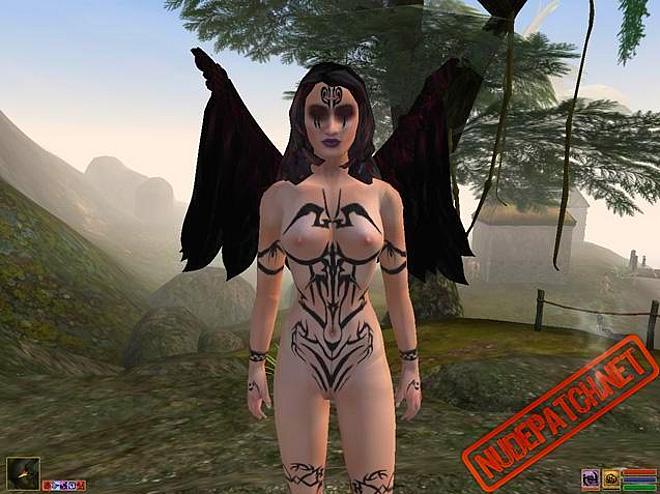 ***
The Elder Scrolls III
MORROWIND:
Fallen Angels Race Mod v1.0
by: RavynAngel
Index:
1. Installation
2. What this mod adds
3. Requirements
4. Bugs
5. Credits
6. Contact
1. INSTALLING Fallen Angels Morrowind nude mod
To install the plugin, simply extract the files to your Morrowind/Data Files folder.
*****************************************************************
2. What Morrowind nude mod Adds
*****************************************************************
1.  New Race-Fallen Angels
2.  New Class-Dark Striker
3.  New BirthSign-Fallen Angel
4.  All new clothing
This is played best by using the custom birthsign AND custom class.  They are both tailored SPECIFICALLY
for the Fallen Angels as they play into a storyline.  This may expand into a quest addon later.  So please
use them as they were meant to be played for the most enjoyment from this mod.  The clothing IS gender specific.  The pants are
for males<they can also wear the collar>, the top, shoes and bracers are FEMALE only.  If you try it any other way, you will have
clipping, and other problems.
***
3. Requirements
This mod requires none of the expansion packs, but it DOES require Better Bodies 2.0.
4. Bugs of Morrowind nude mod
1.  For some reason, two hairstyles show up as bald at chargen, but they WILL show
up on your character after they are selected.  The two hairstyles are as follows
The first one is long curly BLUE hair, the second is long curly PURPLE hair.
2.  On initial play, a female character will have male first person hands.  After you save and reload your game, the first person female hands
WILL show up.  I dont know the reason behind it, but thats the way it works.
3.  Thanks to a game bug, there are some grammatical errors, and theres nothing I can do about it.
***
***
5. Credits
***
Fallen Angels clothes created by Xiamara, using Neuman's tight dress mesh, Niero's bracer mesh, Lord_Alt_Tab's boot mesh and Smite_Plight's slave collar mesh. Original top design by ElorOnceDark.
Special Thanks go out to the following:
AndyGuy
ThreadWhisperer
Astarsis
Gorg
Sabregirl
Korana
426Hemi
Legatus
Carnithus
Kajiro
BB Team
Shannon
Qarl
Hellwolve
Brady228
MadPauly
For without you guys, this mod would have never come to pass.  Thank You All So very much.  And if i missed anyone, i apologize…
The credit is fully yours as well.
***
6. Contact
***
Report Comments, Problems, and Praises to
RavynAngel on the ES Forums, Psychodog forums, and Theyls's forums
or LadyWarRavyn on CanadianIce's Forums.